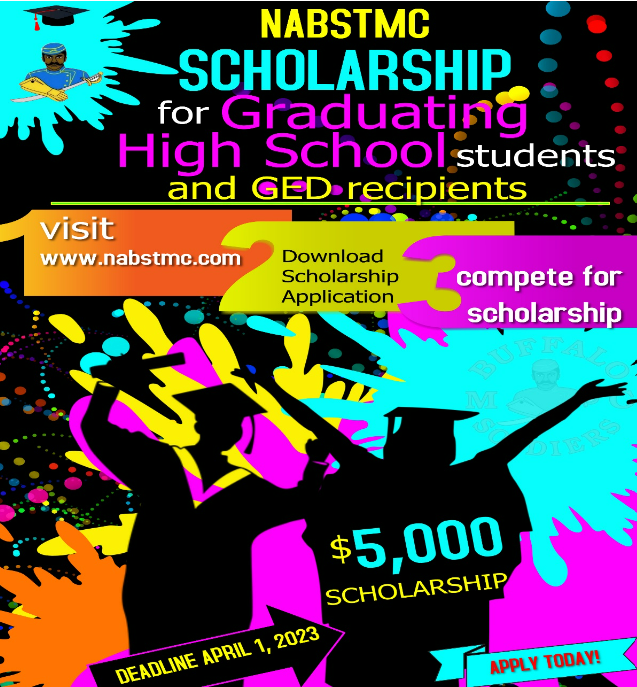 If you're excited and ready to compete for an NABSTMC Scholarship, click the link below to get your application and additional instructions.
Dear Scholarship Coordinator/Counselors/Students, 
The West Point New York Chapter of Buffalo Soldiers Motorcycle Club (WPBSMC) is one of 25 chapters in the Northeast Frontier of the National Association of Buffalo Soldiers and Troopers Motorcycle Club (NABSTMC).
The West Point Buffalo Soldiers Motorcycle Club (WPBSMC) will award a one-time scholarship in the sum of $1,000 to a graduating High School/Trade School Senior residing in the chapter's service area of Hudson Valley. Please encourage your students to apply.
The WPBSMC will mail funds, to the successful student winner, upon verification of enrollment to the college/university/Trade School the student will be attending. The scholarship will be awarded based on a completed application packet, which includes financial need, student qualifications, essay, and supporting documentations.
The selected scholarship recipient will be automatically submitted for consideration and vetting for the National Association of Buffalo Soldier and Troopers Motorcycle Club (NABSTMC) scholarship program. The applicants will be notified and a formal scholarship award presentation will be announced to the recipient, their family and high school for individual presentation.
Completed applications and required documents must be scanned and emailed to [email protected] no later than March 10, 2023.
All official transcripts and documents must be postmarked (emailed) by the due date March 10 th , the application deadline, to be accepted. Late and/or incomplete packets will be eliminated.
For additional information or questions, please contact Vickie Williams at [email protected]
2022 WPBSMC SCHOLARSHIP RECIPIENT

Kolongi Goins, Class of 2022 at Franklin Delano Roosevelt (FDR) High School, was the recipient of the 2022 WPBSMC Scholarship.